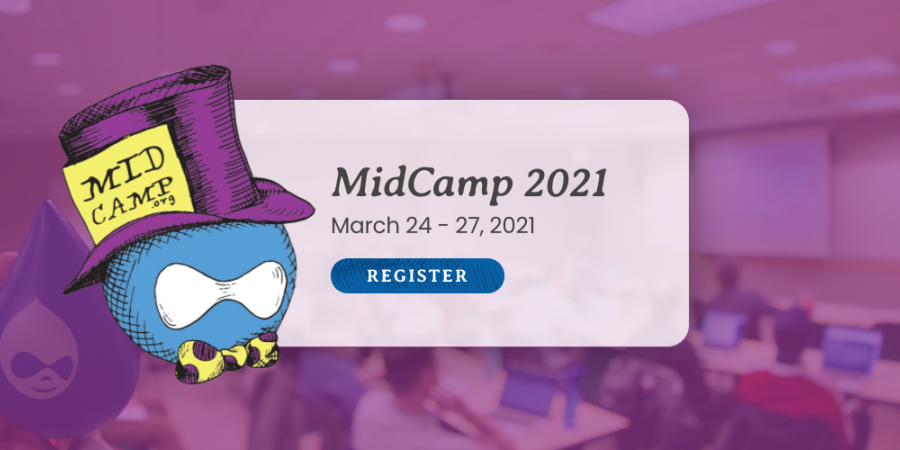 MidCamp is coming! MidCamp is coming! MidCamp is coming! I hope to see you there (virtually) from March 24th - 27th.
I know in a previous blog post I claimed Florida DrupalCamp was the best Drupal camp ever, but it is really MidCamp. (Kidding, they're both amazing and my two favorite Drupal camps and have a special place in my heart and history with the Drupal community.)
This year the organizers have put an interesting spin on the event – each day represents a different style and format. There isn't even an official formal call for papers.
Wednesday - Get Started With Drupal. There are a series of sessions that help give new attendees an introduction to Drupal and the community and connect for mentorships.
Thursday - Meet the Drupal Community. Thursday looks to be a fun day full of "human time" virtual activities. Avi proposed a Zoom walk. Get out, take a walk with friends, and show off your neighborhood.
Friday - Share Your Knowledge. This is the official day of sessions in an unconference format. Not sure what an unconference is like? They explain it pretty well on the Friday schedule page.
See the full schedule details here: https://www.midcamp.org/2021/schedule
I miss my Midwest folks (and those who travel from afar to join each year, as well.) So I am pretty excited about the format this year as it feels very social.
There is one more reason I am excited. This is my first year with Bluehorn Digital and I am also bringing two folks who are brand new to Drupal. I have been fortunate enough to work with a client that enabled me to hire two individuals looking to break out of their current career and into development. Right now they're working on a Laravel application, but I cannot wait to get them introduced to Drupal and the Drupal community. (🤞 maybe next year we won't only attend in person but as more than just contractors.)